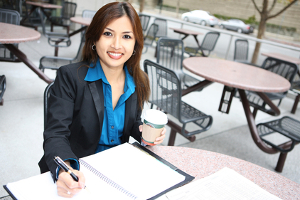 You are not a commodity.
Your training, skills, and experience — both on the job and off — have given you a unique set of abilities and interests. It goes beyond subcategories within your field.
My grandson goes to a children's dentist. She's highly qualified, and everything about her practice says "children's dentistry," from the staff she's chosen to the decorations of her office to the font on her business card. You can tell she loves kids, and she has made kids the whole focus of her very successful practice.
What kinds of clients energize you and make you remember why you made the sacrifices to enter your profession in the first place?
Professional web copy can help you select those clients from the vast pool of people looking for services something like yours.
Professional Web Copy Services
Professional web copy helps you signal your unique qualifications to the clients you are most suited to serve.
It speaks in the "language" of your ideal prospects about what they need, why they're considering your services. It answers the questions that keep them awake at night.
Professional web copy also introduces your clients to you. It lets them know something about you as a person — your interests outside of work, what's important to you, the story of how you came to choose your profession.Especially when you offer a service where both the stakes and the investment are high, your prospective clients must know, like, and trust you. Effect web content accomplishes that.
Your web content attracts people searching for that information. When they arrive at your site and discover who you are and what you offer, they are eager to sign up for your newsletter, subscribe to your blog, and when the time is right, call to retain your services.
How We Create Web Copy for Your Site
Developing web copy for your site begins with a strategic look at your professional and website goals.
We analyze the demographics, lifestyle, and outlook of your ideal client, creating a profile to whom we direct all of your web copy.
I also conduct keyword research, using many avenues to find out the words people use when they're searching for the information you provide.
If I created your professional website for you, these planning steps are already done.
After that, we develop an organization for your site that attracts web searchers and quickly serves up the information they're looking for. We determine a list of pages that I need to write, or what revisions you need if you already have a site functioning.
The result is unique copy that —
Entices web searchers to your site
Provides them information they need in a way that encourages them to come back and sign up for your newsletter
Leads them to know you and like you as person and trust your expertise, good judgment, and concern for their well-being
Getting Your Project Started
Let me help you get your website to work harder, attracting the right clients to your practice. Contact me to set up a get-acquainted conversation.